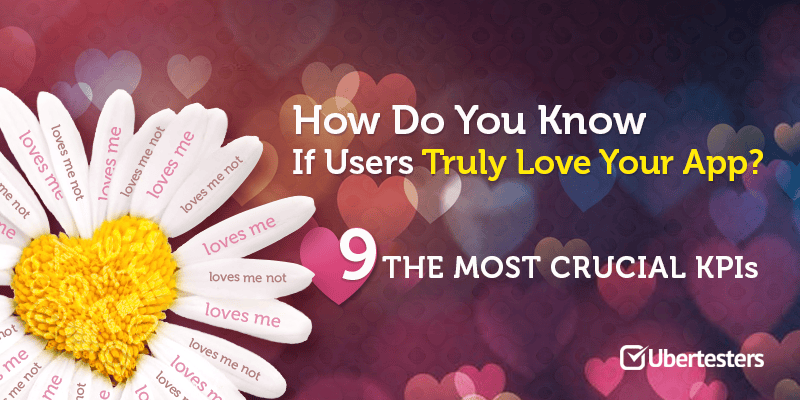 Suppose you have just launched a brilliant mobile app. Congratulations! But now you begin to wonder how can you see that your app is successful? How do you know if users really like your app? If you think that the success of your mobile application is directly-proportional to the number of downloads then you are absolutely wrong.
But don't worry. In this article you will find out what metrics are crucial for your application and how you can measure them.
Happy Valentine's Day 😉
Nine the most important KPIs you should use to measure love of your app's users
No one wants to support a development or marketing activity that's losing their company money. By tracking the right KPI's, your company will be able to make enhancements to different strategies.
KPI – Key Performance Indicator – a type of performance measurement. KPIs evaluate the success of an organization or of a particular activity in which it engages.
#1. Lifetime value.
Lifetime value (LTV) is one of the most effective KPIs for measuring the effectiveness of your mobile app. Plays a significant role in defining your target audience and identifying the most valuable customers and helps you greatly in the process of planning your marketing strategy and marketing budget.
Learn about 5 strategies to increase customer lifetime value.
How to measure: 'Average Value of a Sale' X 'Number of Repeat Transactions' X 'Average Retention Time in Months or Years for a Typical Customer'.
#2. Retention rate.
To find new customers and to attract their attention is not an easy task, but the retaining your existing customers is a real challenge since nowadays users are getting more and more demanding and they have more options available. As soon as you understand the early indication of retention, you will be able to realize what place on the market your application has and what its real value is.
FYI. There is '30/10/10' retention rule for mobile apps, that states the following:
30% of all users will use the app each month.
10% of the registered users will use the app each day.
10% of the daily users will use the app concurrently.
How to measure retention rate: Retention rate = active users / new users * 100%
How to increase retention rate:
Once user launches your app, make sure to offer them something to do. Quick demo will help them stay longer with your app.
Let them remember your app with the help of push notifications.
E-mail them once there is something new happened within the app (new features were added or one of your user's friends joined an app)
#3. Session length.
Suppose you have developed a mobile application for a taxi service. In this case all your efforts will be focused on letting users get a Taxi as fast as it's possible using your app. It's clear that the session will be short in this case. On the other hand, if you have an online shop application the situation will be completely different. You will be interested in customers using your application as long as it is possible.
How to measure session length: Use Google Analytics for Mobile apps (Audience -> Behavior -> Engagement -> Sessions).
#4.User experience.
Bear in mind that if a customer uses your application is doesn't necessary mean that he enjoys it. Rates and reviews on App store can be considered as basic metrics but the most effective way of analyzing your user experience is to define how many times your apps has been opened and how long your customers used it.
Tracking monthly active users and daily active users will also help you to understand what users enjoy in your app and what should be changed.
Once you see that these mertics are going down – it means that it's time for usability testing. Test and fix usability issues, and you will see lots of 'thanks' from your users in App store.
Test your app for usability issues now.
#5. Load time.
One of your main responsibilities is to make your application uploading as fast as it is possible. Users should upload new pages without wasting their time on questions like: why it is taking so long? If your customers have time for such questions, don't be surprised if they decide to choose the application of your competitor instead.
If your app's load time slow, you can be sure – your users don't love your app.
#6. App Usage.
Different applications serve different purposes. Some apps are used for entertainment while others are meant for managing your customer's business. That's why being at the very beginning of the developing a mobile application it is strictly important to understand perfectly what purposes will your app serve and what benefits will your customers get from using it.
Define your target audience, the devices that your customers prefer to use and the most popular operation system and you will see how these data play a significant role in giving you a sense of important engagement metrics of your app. As a result, you will be able to drive greater engagement and revenue.
How to measure app usage: see data in your Developer Console and Google analytics for mobile apps.
#7.User acquisition.
In order to gain new customers, firstly try to analyze how your current users found your application. Was it organic search or paid advertisement? Various applications attract customers' attention for various reasons. The knowledge of the best ways to reach your target audience will help you greatly.
How to measure user acquisition: Google Analytics will help you to get a full information on traffic sources of your app's users.
#8.Average revenue per user.
When you are developing any application in the most cases you want to get revenue. Your revenue is based on two things: price of your app and/or in-app purchases and conversion. Try to calculate the average revenue per user and you will find out the real value of each customer who uses your application.
How to measure an average revenue per user: Revenue / Number of app users
#9.Conversion.
In order to optimize the process of conversion try to analyze the typical behavior of your customer since this information will help you to understand the natural brakes, lying in your app.
How to measure conversion: Conversion rate = Number of leads / Number of users * 100%
These are nine the most important metrics that you should know. Your main task for today is to determine what metrics are crucially important for your business and concentrate your attention on them. Good luck!