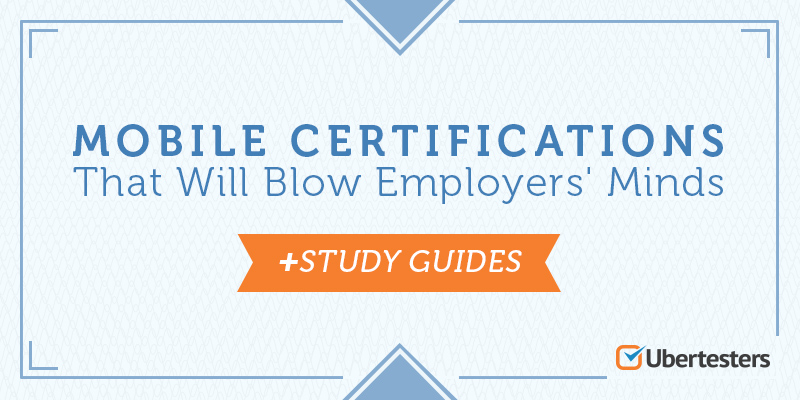 Dynamics contained in the world of IT-technologies in general and in mobile technologies in particular requires the confirmation of the qualification of specialist in a particular field. In this case the certificate that is a document given by the certifying organization after candidate has successfully passed the correspondent exam in the testing center can be very helpful. The necessity to use certificates in the process of evaluating experts is caused by both the intensive development of the industry and sufficiently high staff turnover, which requires from IT-companies the ability to efficiently find specialists, selecting among the best available candidates.
Certification is the process of assigning specialist status in accordance with their knowledge, proven by the high results of an examination or test.
Many leading firms that are about the software and hardware development have their own certification programs.
In this article we will discuss several various mobile certification programs that are app development certifications, networking certifications and security certifications.
Mobile development certifications
Let's start with the most wide-spread mobile development certifications.
Microsoft Technology Associate (MTA) certification
Microsoft certification is the fundamental level for those people who are planning to build a professional career as a technician. MTA certification covers a wide range of primary principles of technology, assesses and validates your basic technical knowledge, and helps to establish your reputation as a technician.
HTML5 Application Development Fundamentals exam (MTA: 98-375) measures your ability to accomplish the following tasks:
– Manage the application life cycle;
– Build the UI by using HTML5;
– Format the user interface by using CSS;
– Code by using JS.
Mobile Development Institute (MDI)
Mobile Development Institute (MDI) is known as a non-profit-making organization that provides three entry-level MDI Certified Developer certifications for three most popular mobile platforms that are Apple iOS, Blackberry and Android. These certificates have a lot in common with MTA mobile credential. A candidate may qualify for an MDI certification exam on condition that you have already developed and published at least one application on one of these platforms. The exam is held in the form of performance. An MDI proctor is carrying out the remote viewing session in the examinee's computer and the candidate should answer the questions asked by the proctor. Then he would need to modify example code by request.
| | |
| --- | --- |
| Cost of Mobile Development Institute certification: | $375 |
Oracle Certification Program (OCP)
Oracle Certification Program (OCP) is a multilevel system of professional certification of specialists working with the Oracle products. Its Java certification programs include "Java ME Mobile Application Developer". The Oracle program for programming and technologies for Java is a prestigious and internationally recognized certification. Its main subject includes important tasks in the area of the development of applied software and designing business systems.
This certification is for developers who create mobile applications using Java technologies for cell phones or "smart" devices. Passing this exam certifies that the candidate has achieved a standard level of proficiency with mobile Java technologies, as well as with the Java Technology for Wireless Industry (JTWI) specification, including the Wireless Messaging application programming interface (API) and Mobile Media APIs.
The "SAP Certified Development Associate – SAP Sybase Unwired Platform 2.1 Mobile Application Developer"
The following exam verifies that the candidate obtained basic to intermediate level of knowledge of the development of mobile application that has been written on Sybase Unwired Platform release 2.1. Besides, this certificate proves that the claimer has primary, general understanding and profound technical skills that are necessary for the development of mobile applications on the given platform and can apply this knowledge into practice under the supervision of an experienced mobility consultant.
| | |
| --- | --- |
| Cost of SAP Certified Development Associate certification: | $500 |
| Sample Questions for SAP Certified Development Associate exam: | Sample Questions |
"SAP Certified Development Associate – ABAP"
The given certification exam proves that the candidate indeed has profound fundamental knowledge in the field of the development of ABAP. In order to pass this exam the candidate would need not only to acquire high level of understanding of ABAP development but also to be able to apply these skills practically under the guidance of project lead.
Mobile Networking Certifications
Mobile Networking Certifications such as CompTIA, Citrix, Aruba and Cisco should also be paid attention to.
The CompTIA Mobility+
The CompTIA Mobility+ exam deals with mobile device management, troubleshooting, security, and network infrastructure. It shows which IT specialists are capable of deploying, integrating, supporting and managing a mobile environment providing at the same time adequate safety measures, supported on devices and platforms for minimalizing risks and threats.
The CompTIA Network+
The CompTIA Network+ is represents a compliant technology certification that proves the fact that the candidate has obtained the skills and knowledge required for playing a crucial part in the process of building, managing, and protecting the critical asset that is the data network.
| | |
| --- | --- |
| Cost of CompTIA Network+ certification: | $277 |
| Study Guide for CompTIA Network+ exam: | Comptia Network+ Study Guide |
CCNA Wireless
CCNA Wireless (Certified Cisco's wireless networks) requires skills that are critical for professionals that provide wireless networking support, including system administrators, support specialists wireless networks and project managers WLAN. CCNA Wireless certification verifies that the applicant has profound skills in the field of the configuration, testing and support of wireless LANs using Cisco equipment.
| | |
| --- | --- |
| Cost of CCNA Wireless certification: | $200 * 4 exams = $1000 |
| Study Guide for CCNA Wireless exam: | Study Guides |
Mobile Security Certifications
Certified Information Security Manager certification
Certified Information Security Manager certification is aimed at experienced managers of the information security systems. CISM certificate confirms that the specialist has profound knowledge and experience and is able to manage effectively information security in an organization or consult on issues in this field.
The CompTIA Mobile App Security+
The CompTIA Mobile App Security+ certification comprises the knowledge and skills that are necessary for developing the native mobile application for iOS or Android platform as well as for providing secure network communications and backend web services.
Did you enjoy your reading? Make sure to check out ISTQB Software Testing Certification: "How-To-Pass" Tips. Foundation Level.