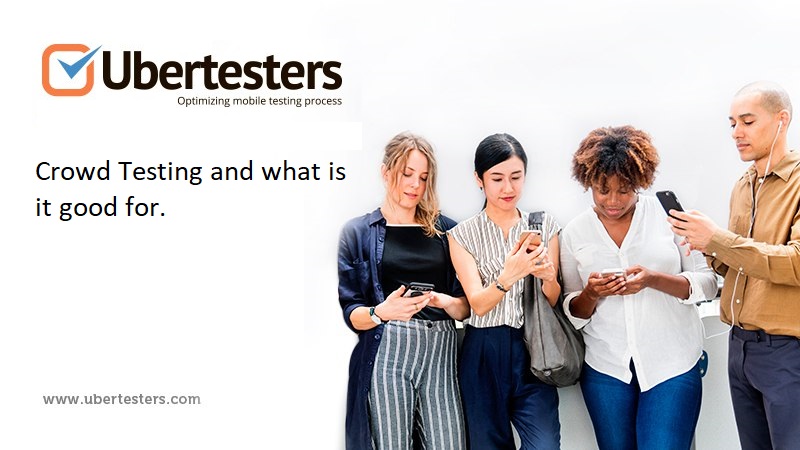 If you are a product manager and going to release a new version of an application for iOS or Android, you surely need regression testing results as well as UX/UI testing ASAP! When it comes to beta testing, it's just that simple. You can easily find several people to test your app. They can be your relatives, friends or previous customers. But is it enough? Are they really non-biased?
You can also opt for a paid beta testing. It's all about choosing the way that seems optimal for you. But how can you significantly speed up the whole testing process without compromising the product quality? Especially if you're limited in time and costs! Well, you can enhance the QA-team, purchase more devices, run a lot of autotests in the cloud or just turn to some crowd testing platform. Yes, we mean the method that combines both the advantages and efficiency of crowdsourcing.
To ensure a fast and cost-efficient software testing process, big corporations, or startups, CTOs and developers prefer to use crowd testing rather than turn to in-house testers. Basically, it is a platform with
thousands of registered approved testers. Such software as E-commerce-apps and websites, games, social networks, messengers, "Uber" like companies, and more, is being distributed to these testers. They run it on their own mobile devices or PCs to inspect it for bugs and defects and reveal the areas that should be improved. That's the point of crowd testing jobs! Use the power of the crowd!
As a product manager, all you need to do is to provide the test scenarios (test cases) and choose the operating system, tester's location, and devices needed for software testing. Then the project manager will send the invitation and an army of testers who accepted the project will start things off with a bang. After a short while, you will get the results with screenshots, remarks, and reproduction instructions and will be able to fix these issues found. Yes, it is really so easy!
Some of the better crowd testing companies will also have their own QA management platform to make the bug reproduction and fixing much easier and more transparent.
So, here are a few reasons why this method has become quite popular lately:
Timely, effective and accurate software testing
Significant cost savings
It helps reveal all usability and functionality issues
Developers can check whether their app meets the requirements or not
Completeness and efficiency of functionality testing
Solve the diversification challenge and ability to scale in the most flexible way
Well-proven by Microsoft, Google, Facebook, eBay, Amazon, etc.
Its power and popularity come from being able to harness human intelligence in groups. Moreover, it ensures a wide range of diversity and global reach of QA management that in-house testers literally can't match.
It is a great chance for product managers and companies to try out their software on testers that are similar to their targeted users yet are non-biased. With a huge pool of potential testers out there, it's feasible to set up a test with those who closely fit the required characteristics, whether it's a country of origin, language, age, or anything else. Thus, a product team can test it on a group similar to their customers and closer demographics without actually testing it on them.
In addition to a fair number of people, crowd testing also means that software can be tested on various devices. The more testers are there in the crowd, the more impressive the variety of devices is. So, keep in mind that even different versions of the same operating system can bring the greatest challenges – the prime example is Android testing or even iOS testing. Especially Android testing with such a huge variety of available global devices. So, the results can definitely exceed your expectations!
By selecting competent testers, each platform strives to bring a highly qualified crowd to the table. Most of these testers often work as software specialists. At the same time, they're willing to either improve their skills or get some rewarding crowd testing jobs on the side. It's important to verify that indeed the platform has a strict certification process before a tester is approved in order to ensure you get qualified, experienced testers.
While participating in a project, not only do testers follow the scripts but also use the accumulated knowledge and human discretion to locate functional flaws of the products and describe them in the report. These testers run apps on devices just like real users do. They play with privacy settings, use ad blockers, flight mode, and change regional settings to name a few. Such an approach allows for exploring all possible scenarios. With thousands of testers all around the world, this method provides functionality and usability testing in real-life conditions as well as guarantees an unparalleled efficiency.
Another advantage of crowd testing is the possibility of running tests in parallel. Instead of having several testers surfing through new software features and scenarios on a single device, you can distribute an app to dozens or hundreds of them with different software and hardware on hand. It means they can test all features and scenarios simultaneously. Thus, you will get the results faster to be able to pinpoint all possible bugs in certain versions of hardware. It also allows small software companies to test their products in real-world conditions. That way they don't have to worry when releasing their software to the targeted audiences in different target countries.
Finally, this method makes the burden of testing scalable, easier and simplifies the workflow of QA management staff as they don't have to explain what they need in plain language. The customer speaks to an experienced project manager that works for the crowd testing platform and acts as one-point-of contact. The project manager is then responsible to explain the testers what needs to be done and verifies it's executed according to the test plan. Even if there will be a problem that puts an autotest on suspend, they will be able to recognize these mistakes and go on with crowd testing jobs. All these results of web application testing or mobile testing you can then use to improve your software. As you can see, it's the most optimal, flexible, and cost-effective way to have an app prepared for release!