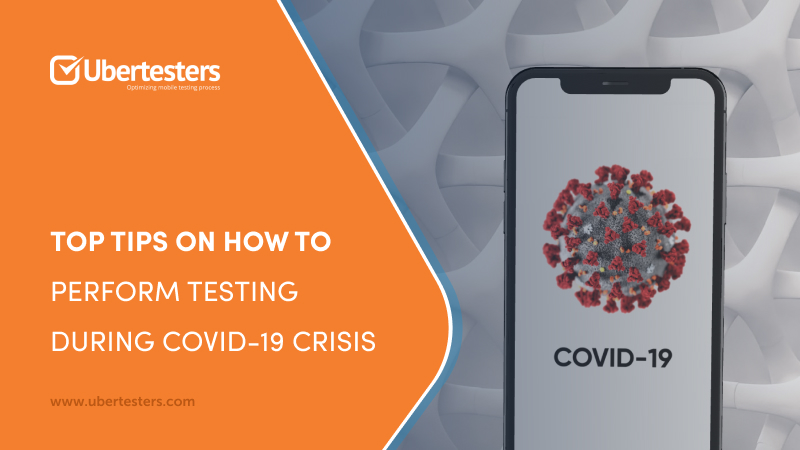 The global pandemic has already changed our world. Millions of small and big businesses in almost all countries globally are forced to switch to remote-based work and operations. Most developing and QA teams are now split, where all the professionals are working from their homes. And in some worst scenarios – people are on unpaid leave or laid off.
How can the business owners and engineering leaders handle this situation in the most effective way? Is it possible to maintain a top-notch quality of your product?
Crowd testing is a perfect solution to many issues regarding your QA needs. Let's discover how you can save your costs using crowd testing during a crisis when all your experts are only working from home online.
COVID-19 crisis: How to solve your business issues
Any type of crisis is a challenge for many businesses. What issues will you need to solve during the COVID-19 crisis? How to optimize your working schedule? Let's get the answers! 
Get ready to work remotely
No one knows exactly when the coronavirus will stop spreading on our planet. Therefore, it is better to organize the working schedule for all your employees in the most effective way. Remote working is still the best alternative to stop pandemic – avoid leaving your homes for no particular reason. 
Stop panic
COVID-19 crisis is a serious problem most companies are likely to face. However, if you can't change the situation, you can change your attitude towards it. Think about the benefits you can get during a crisis. For example, there are lots of paid courses and online utilities that are now free to use. You can reduce costs and expenses for using different software during the tough period. Lastly, pick up a book and read….it's better than those Netflix TV serieses. 
Use crowd testing 
Crowd testing continues to be one of the best alternatives when it comes to testing various products and services during the COVID-19 crisis. The fact is that most businesses are trying to cut down on spending and lowering costs for testing when most business activities are coming down. Crowd testers will help you to save your budget and ensure your product is having the best quality. How to reduce cost for QA testers? Ubertesters knows how to help!
How Ubertesters helps reduce testing costs? 
There are lots of advantages of crowd testing during crises. The matter is that crowd testers can perform all types of testing efforts and help you with decreasing financial commitments. After all, it is based on 'freelance' work of remote testers. So, what are the benefits offered by Ubertesters to your business? 
Opportunity to change your QA team to crowd testers.

COVID-19 appears to be a tough period for businesses. However, you can still launch your new apps or modify the existing ones with no need to postpone it. Crowd testers might help you to check your solution from scratch, as well as provide the business owners useful comments about the functionality and weaknesses. Your application can become absolutely perfect with no need to leave home or search for skilled testers in your area. This is the greatest advantage for any business during the CORVID crisis – the entire testing can be performed remotely and by external teams. 

Cost-effective testing.

When choosing crowd testing, you are only paying for the service and for actual testing performed. You don't need to spend extra costs and pay various independent testers on an hourly basis. This solution helps you with lowering employee costs. Moreover, you are eliminating some overhead expenses in case your app has some bugs or crashes for testing the service several times after fixing the issues. To put it short, choosing a crowd testing service is the best way to save your costs when no one can leave their homes. 

Total cost of employment.

During times of crisis, most business leaders are considering cash flow as the most critical part of the activity. The first thing businesses will do is look at the total cost of employment and make tough decisions. Such decisions may include unpaid leave for employees, or even layoffs. The total cost of employment for employees includes variables such as gross wages, as well as

other employee-related expenses, including state payroll taxes, Social Security and Medicaid taxes, and the cost of benefits (insurance, paid time off, and meals or equipment or supplies).

Not to mention other indirect expenses such as physical workplace space and the cost of equipment such as computers, telephones, printers, etc. By using crowd testing services companies can eliminate all these costs, but still be able to get high quality QA service and launch a product you can trust.      

Huge volumes with no delays

. The testers from different countries will be able to test your solution on real devices in real-time conditions. Professional testers are located in various states throughout the globe and can do the testing according to your unique preferences. All of them can share their experiences with you and enable you to make your app perfect. The entire job is done from home, so there will be no delays compared to choosing office-based local experts. By the way, several professionals have higher chances to detect bugs in any software than only one tester in one location. 

Diverse testing

. Test your application via different parameters, including various browsers, connection speed, operation systems, and gadgets. Test your apps on the most popular devices in other countries that are not common in your home country. You have unique opportunities to test your software covering dozens of scenarios, languages, and locations. Furthermore, the COVID-19 crisis is not affecting the crowd testers – they are always ready to help since these professionals do the entire testing job remotely. 

High testing speed

. Crowd testers are experienced professionals who always perform tasks quickly and effectively. Getting relevant data about the bugs ASAP is crucial for many businesses. With Ubertesters, you will get all the required data about your apps within the shortest terms. 

Excellent testing platform

. In case you are searching for a feature-rich solution to meet all your testing requirements, Ubertesters is here to help. Our easy-to-use advanced testing platform allows you to manage, execute, and control your beta testing process, as well as your QA team in real-time. 
In summary, in crisis times, when companies are focused on reducing operating costs and reserving cash, they look at outsourcing non-core activities. The organization's in-house QA activity can be easily converted into the more flexible, fast, and cost effective crowd testing activity.    
Want to learn more about the benefits, offered by Ubertesters during the crisis? Feel free to contact us at sales@ubertesters.com